South winds catch boaters, anchored off Zuniga jetty, off guard.
The area just East of Zuniga Jetty is quickly becoming a treaturous area for boaters.  There are already several confirmed vessels, sunk and unmarked, in the Anchorage.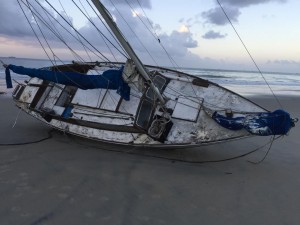 This last Southerly storm sent several more vessels to the beach. This Beach is on Navy property just South of the NAB runway.  One of the latest vessels to wash up on the beach has a mast that is high enough to possibly shut down the runway due to safety reasons.   As of this time at least two sailboats and one large power vessel have washed ashore.  As these vessels pounded in the surf many internal contents washed out and possibly sunk in the anchorage.  Due to this threat we would strongly suggest avoiding this area while boating outside San Diego Harbor.  Several years ago the Port of San Diego Shut down the A-8 Anchorage, which was the only free anchorage, with no time restrictions,  for local boaters.  After the anchorage was closed efforts to clean the anchorage resulted in hundreds of tons of debris being removed. These debris ranged from Sunken vessels to Household washing machines and everything else one could imagine, weather it belongs on a boat or not.  As the fate of the stricken vessels is unknown the chances increase that more and more debris will wash off them causing what is on pace to become another expensive cleanup project.